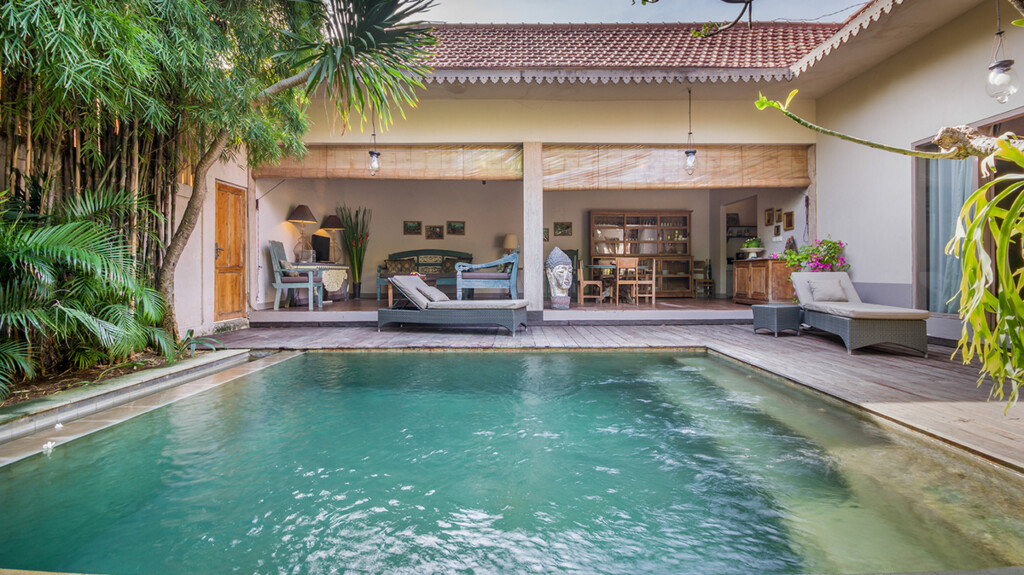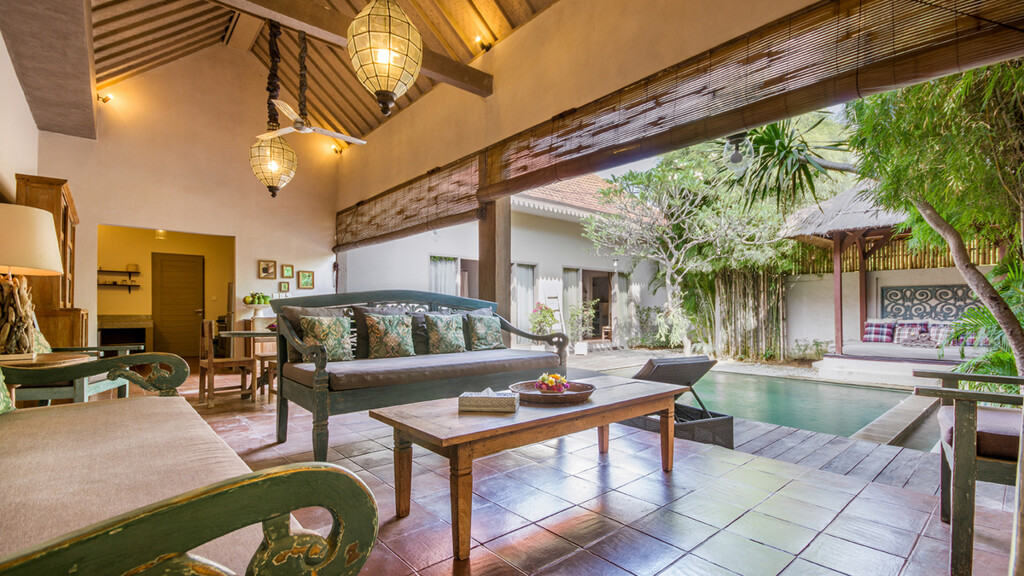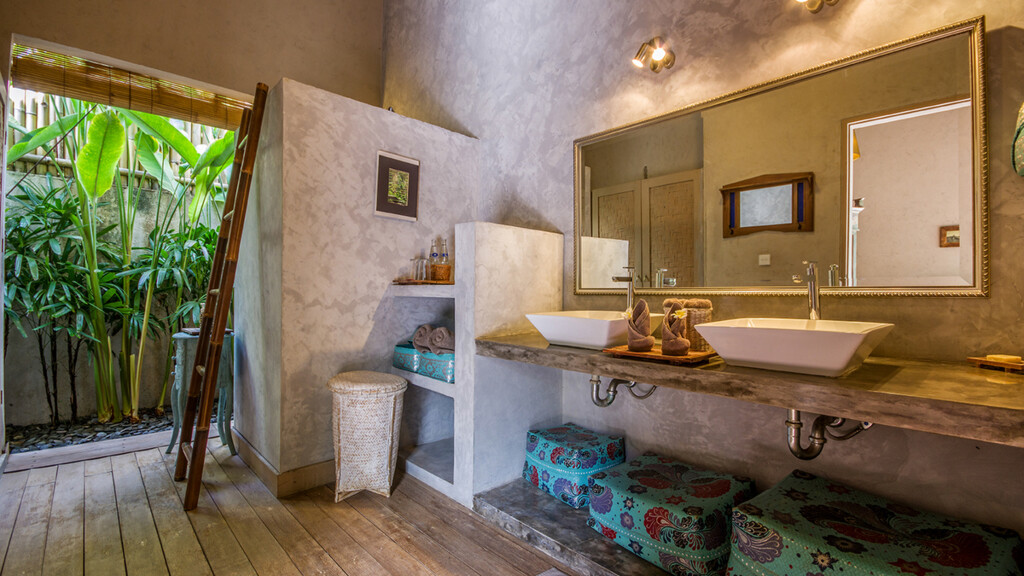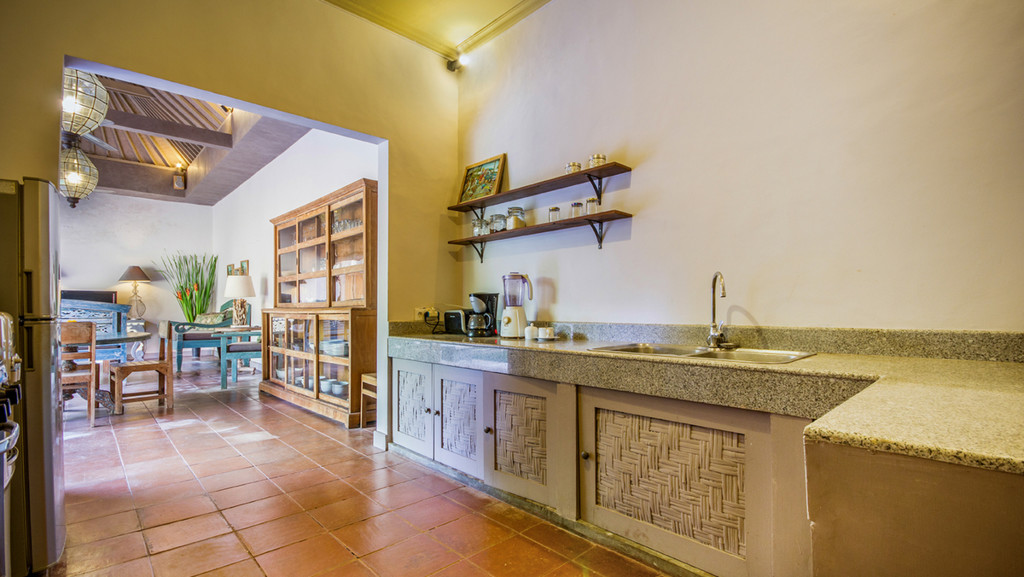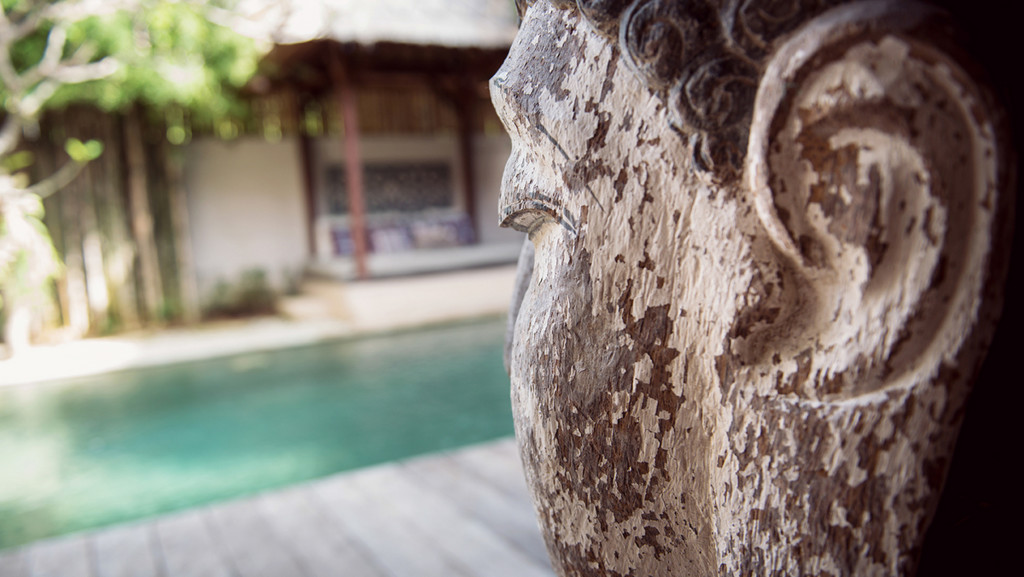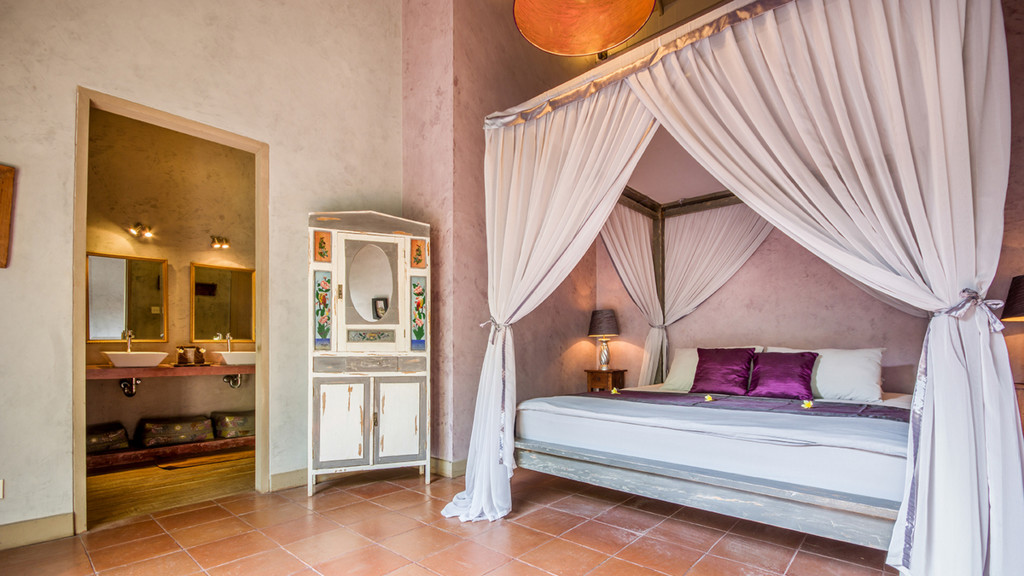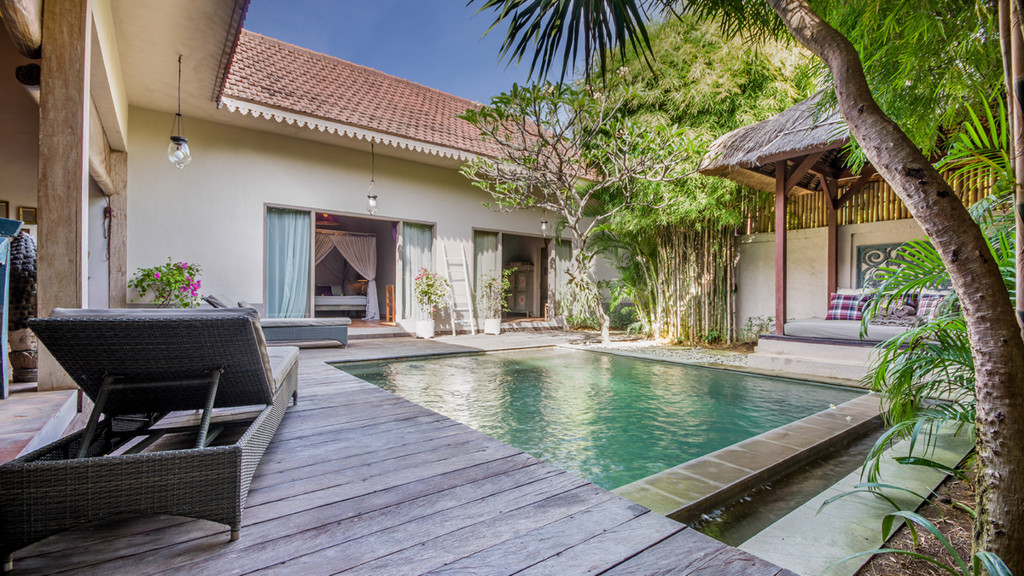 About villa Zenitude
Villa Zenitude is a cozy and
peaceful retreat
right in the most happening area of Bali. This two bedroom villa breathes old style class mixed with modern days amenities.
A great place for couples or a group of friends
to enjoy their holiday together. Within the walls of villa Zenitude you will have lots of privacy and tranquility yet outside you will find yourself in center of vibrant Seminyak famous for it's beaches, shops, boutiques and restaurants.
Seminyak's famous Double Six Beach is just a 10 minute walk away.
The master bedroom
Colors of yellow, brown, green and turquoise rule the master bedroom, giving it a warm en intimate atmosphere while the full length glass windows and door give you a lovely view over the villa's garden and pool. This air-conditioned room features a beautifully painted antique closet, a
luxurious king-size canopied bed
completed with curtains and cushions and there is a big flat-screen television for a cozy movie night.
The spacious en-suite bathroom has a wooden deck floor and the room is decorated with colorful hand painted Balinese baskets and an ornamented mirror. The bathroom features two washbasins with one big mirror, a toilet and a luxurious rain-shower partly opened up to the outside tropical plants and stones so you can feel the soft wind blow while taking a shower.
Guest bedroom
This bedroom enchants you with colors of brown, purple and lavender blue. The full length glass door and windows provide you with a lovely view over the garden and in the evening you can close the purple curtains to enjoy the warm atmosphere created by the distinctive lamps hanging from the high ceiling.
The en-suite bathroom has a wooden deck floor and walls of purple and blue. There is a double washbasin with two mirrors,
colorful hand painted Balinese baskets
, a toilet and on the other side a semi-open rain-shower.
Outdoor and pool area
Upon entering the gates of Villa Zenitude you can follow the wooden deck to reach the villa's garden and swimming pool. Hidden away in the corner in between lots of tropical plants, you will find a gazebo with thatched roof providing you with shade during hot sunny days. A perfect place to chill out with the pool just one step away. If you want to catch a tan you can lie down on one of the sunbeds.
The living area
Villa Zenitude features an open-plan living area with view on it's lovely garden and pool. The living area is decorated with old style wooden furniture, traditional Balinese arts and stylish modern amenities. On the left you will find a seating area with two painted, ornamented wooden sofa's decorated with blue cushions, a wooden table and a flat-screen television.
On the right you will find the dining area with a round wooden table for up to four people to enjoy a delicious meal together and in the back you will see a tinder cabinet filled with hand crafted ceramics and glassware.
The kitchen has everything you need including a double sink, oven, large fridge, toaster, coffee maker and blender.
Around Villa Zenitude
Villa Zenitude has a perfect
central location
yet tucked away in a quiet lane so you can have both relaxation and action on your holiday in Bali. Just minutes away you will to find yourself in the center of Seminyak where you can walk to the beach, shop at one of the many boutiques, go out to dinner at one of the fancy restaurants or visit one of the popular bars. The international airport of Bali is just a 20 minute drive away and other main attraction on the Island of the Gods are easy accessible by car.
Click here to see all 35 villa pictures
I would highly recommend Villa Zenitude Especially for Dewi who is the best person we have ever had looking after us and we have stayed in several villas
Clean rooms, very comfortable, very friendly stuff, a little bit far from the beach but everything to shop and dine nearby. We can absolutely recommend Villa Zenitude.
The villa is well kept and the decoration is very creative. Rooms are spacious and the bathrooms are really beautiful and comfortable. The pool is nice to chill after a day at the beach or shopping. Dewi was excellent, specially with our 10 months old baby, thank you. I'd recommend this villa to families with small children.
We loved our stay at Villa Zenitude. The villa is clean and beautifully appointed, with enough space for 4 adults. It was quiet and comfortable and we were well looked after by our housemaid. She was thoughtful and helpful in making plans and accommodating our requests. We loved the location, it was easy to walk to bars, clubs and restaurants and not far to hail a taxi.
The villa was in a great location close to the beach bars of Seminyak with plenty of market shops. The villa was clean and perfect for a group of friends or a family. The beds were comfortable and we really enjoyed the outdoor showers. We weren't expecting the use of a maid but it was a great surprise as she made us breakfast each morning and was able to help us find transport to our next destination etc. Leaving us a cellphone to use while there was also very handy. Only downside was that this was not within walking distance to some of the bars and restaurants we went to in the heat such as Potato Head, La lucciola, Hotel mexicola etc however it was a cheap and short taxi ride away.Would stay again.
Overall a good value for the money asked! Not super close to seminyak central and the beach but nice back street away from chaotic streets!!
Great place, great staff, great house. I advice this villa to everyone. It's the perfect place to spend a weekend in Bali. I always rent this villa when i'm going to Bali.
Stayed in the villa for a week. Overall the family and I were satisfied. The service was amazing and housekeepers were very friendly! The villa was very cosy and quiet, an ideal place to come back to at the end of a tiring day. Location's very strategic, within walking distance to mini marts, restaurants, pubs spas, etc. Although walking out at night seemed a little dangerous. Downside is, there were loads of millipedes in the showering area, as it was outdoor (but still private). Didn't bother me much though. What really bothered me was there was a rat in the showering area during one of the nights. But other than that, our stay in the villa was amazing. Everything was taken care of for us. Would recommend for families who's looking for a relaxing experience
The rooms were awesome and the location central to our needs. The girls who looked after us were amazing, and we couldn't fault the service!!
This villa was amazing. Everything was clean, nothing to say about this. Close to the main street where you can do a shopping session ;)! Close to Cafe Bali or Le Bistrot which are two good restaurant, particularly Cafe Bali for a brunch. For sure I will go back in this villa.
Villa Zenitude is a beautiful and tastefully designed villa, very much like what you see in the pictures. I would recommend it wholeheartedly. 1. Floor area of the villa is spotlessly clean 2. The location is very central and we can walk from our villa to the main road where a cab can be hailed easily. 3. Quiet and peaceful at night. 4. Friendly staff who went out of her way to cook us a special breakfast, make us fresh juice and prepare a fruit platter every day. She also cleaned the rooms meticulously each day. 5. Huge and comfortable lounging area with auxiliary cable provided for plugging in our own music. 6. Wifi that works throughout the villa. 7. Very comfortable beds.
A very enjoyable stay right in the middle of seminyak. Hidden from the hustle, it is a real pleasure to be back at the villa after a day or a night out. The staff was really nice and helpful whenever we needed.
Villa ­­­­­­Zenitude was a pleasure and a delight to stay in. The beautiful girls that look after the villa were to sweet and accommodating. The villa was in a great location, easy to walk to Legian or to the beach but was also an escape from the chaos. The essence of the villa was very homley however with the beautiful pool and day beds we felt like we had our own private resort. The bathrooms and bedrooms were stunning as was the lounge area and the pool. I would recommend this villa to families, or groups of friends. I will absolutely been returning to this gorgeous villa.
Here are our availabilities for the next few months:
Minimum stay
1 Rooms
2 Rooms
from 17/04/2017 to 01/07/2017
Low season
3 nights

USD $

150

USD $

170

from 01/07/2017 to 01/09/2017
High season
5 nights

USD $

180

USD $

200

from 01/09/2017 to 20/12/2017
Low season
3 nights

USD $

150

USD $

170

from 20/12/2017 to 10/01/2018
High season
5 nights

USD $

180

USD $

200

from 10/01/2018 to 01/07/2018
Low season
3 nights

USD $

150

USD $

170